Advantage India on Alibaba.com
23rd June-2012 | Chennai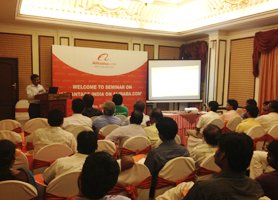 SEMINAR OVERVIEW
Extending its focus in the Southern Region of India, Alibaba.com, the world's leading e-commerce company, had organised an event in Chennai on 23rd June-2012. The attendees of the event were FREE registered members on Alibaba.com, Verified Members of Alibaba.com & Non -Registered members as well.
In order to educate Indian SMEs about capitalising on export opportunities, Alibaba.com shared its expertise in trading with global Buyers by leveraging e-commerce, over 32 eager SMEs attended the event to learn more about e-commerce and the Alibaba.com platform. Attendees of the event were from a variety of industries, including Agriculture, Textile and many more.
The growing Internet base in the country has a direct correlation in the growth of e-commerce in the country. With growing trend of ever increasing usage of E-Commerce by the Indian SMEs, the topic for the seminar was "Advantage India on Alibaba.com"
OBJECTIVE OF THE SEMINAR
Highlighting the importance of E-Commerce for Indian SMEs
Growing Power of E-Commerce for B2B industry
Showcasing the Advantage India on Alibaba.com
Introduction of Alibaba.com subscriptions and its benefits
Introduction & benefits of Alibaba.com subscription
Gold Supplier is a paid membership for suppliers on Alibaba.com who have a serious interest in doing business with Buyers worldwide.
Key Features of the paid Membership of Alibaba.com are as follows:
Greater Product Visibility
Showcase key products for upto 8x more exposure in Buyers searches or target preferred Buyers with the invite to – Private Showroom on Alibaba.com
Exclusive Access To Buyers
Get exclusive access to buyers' contact details and the latest Buying Leads 7 days before Free Members.
To know more about Global Gold Supplier Membership of Alibaba.com, please feel free to contact
Swapnil Auti +91-22-66955255 / e-mail @ sauti@alibaba-inc.com
Introduction to Verified Membership its Benefits
Alibaba.com now has a new feature called "Verified Membership". With this feature now Suppliers from India and some regions of US can get a Trust-Seal for business verification and it also gives higher ranking for your product listings on Alibaba.com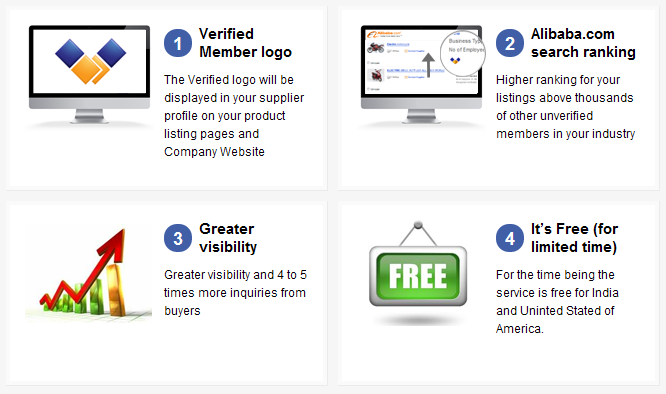 Please note that Verified Membership on Alibaba.com, is open to:
A registered Member on Alibaba.com (FREE Membership)
For the time being, the service is FREE for India & United States of America
To know more about Verified Membership / To register as Verified Member on Alibaba.com, please feel free to contact Chetan Pandya on +91-22-66955216 / e-mail @ cpandya@alibaba-inc.com
*Please note that the verified Membership is subjected to the fulfilment of terms and conditions of Alibaba.com by the Applicant
Summary of Alibaba.com Presentation
Understanding the Power of E-Commerce
Understanding Buyer Behavior
Tips & Tricks on "How to attract quality leads" for your product postings on Alibaba.com
Opportunity for India on Alibaba.com
Gallery