India Chem - 2012
4th Oct - 6th Oct, 2012
Place: Mumbai
Name of the organiser : Department of Chemical & Petrochemicals, Govt of India & FICCI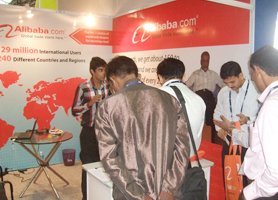 Show Overview
The India Chem -2012 was the 7th edition and is currently renowned for being one of the leading Trade show in the chemical Industry also in terms of volume, the Indian Chemical Industry is the 6th largest in the world and the 3rd largest in Asia.
The Show was inaugurated by the honorable President of India Mr. Pranab Mukherjee.
Leading Companies from all over the world particularly from China, Japan, Russia, Spain, USA, Germany, Italy, Brazil and South Asian countries participated both as exhibitors and visitors as well. During the event many eminent speakers from India & abroad shared their valuable experience through the conferences and seminars held at the venue.
Trade Show Highlights:
Over 350 Indian and Foreign Exhibitors
Technical Seminars and Conferences
Buyer - Seller Meet
Foreign National Pavilions
Alibaba.com Booth Activities
To empower the Indian SMEs about E-commerce platforms, Alibaba.com team shared their experience with the Trade Show visitors and Exhibitors as well by giving them presentation on the below mentioned topics:
Introduction & benefits of Alibaba.com subscription

The paid Membership of Alibaba.com world-wide known as "Global Gold Supplier Membership" is basically aimed at helping the SMEs to get enquiries from the overseas Buyers.

Key Features of the paid Membership of Alibaba.com are as follows:

Maximize Your Exposure

Display unlimited products with top-tier priority listing to generate 22x more inquiries than Free Members.

Exclusive Access To Buyers

Get exclusive access to buyers' contact details and the latest Buying

To know more about Global Gold Supplier Membership of Alibaba.com, please feel free to contact Swapnil Auti +91-22-66955255 / e-mail @ sauti@alibaba-inc.com
*Please note that the verified Membership is subjected to the fulfilment of terms and conditions of Alibaba.com by the applicant
Gallery