Trade with Pakistan - An insight to current scenario
26th Dec 2012 | Ahmedabad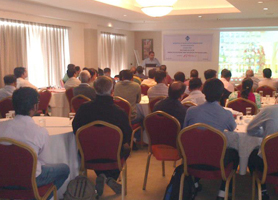 Seminar Overview
Alibaba.com partnered with Federation of Indian Export Organization (FIEO) for a one day Interactive Session on "Electronic Bank Realisation Certificate" (eBRC) at Ahmedabad on 26th December-2012
Director General of Foreign Trade (DGFT) has introduced an Electronic Bank Realisation Certificate (eBRC) system wherein banks will be required to issue and transmit BRC's electronically to DGFTs server replacing the manual mode of obtaining and submitting BRC.
Key Highlights of the Seminar
-30 SMEs attended the seminar
-Alibaba.com Team made the presentation on "Advantage of E-Commerce for SMEs"
Gold Supplier is a paid membership of Alibaba.com for exporters & manufacturers. It provides an extensive number of promotional opportunities to the SMEs to maximize their exposure and return on investment. To qualify for a Gold Supplier Membership, a supplier must complete an authentication and verification process by a reputable third party security service provider appointed by Alibaba.com. Once approved, Gold Supplier Members are authorized to display the icon to demonstrate their authenticity on Alibaba.com
Global Gold Supplier Membership of Alibaba.com is aimed at helping the SMEs to get enquiries from the overseas Buyers.
Key Features of the paid Membership of Alibaba.com are as follows:
Unlimited product display with first level Priority listing
Exclusive access to Buyers before FREE Members
Premium Company Website to attract serious Buyers across the globe
Verified Company status to increase Buyer confidence
To know more about Global Gold Supplier Membership of Alibaba.com, please feel free to contact
Swapnil Auti +91-22-66955253 / e-mail @ sauti@alibaba-inc.com
Gallery