Power of E-commerce for IFM & VM
8th Dec 2012 | Chennai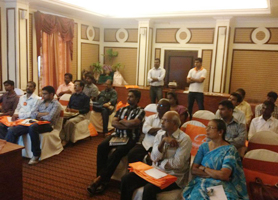 Seminar Overview
Growing numbers of businesses world-wide are looking at various innovative ways to enhance their business operations through the use of E-Commerce so as to grow and expand to the international markets.
Keeping in mind, the ever increasing Internet penetration rate in the Indian market, Alibaba.com, the world's leading e-commerce company, had organised an event in Chennai on 8th Dec-2012. The attendees of the event were FREE registered members on Alibaba.com and Verified Members of Alibaba.com
The objective of the seminar was to educate Indian SMEs about capitalising on export opportunities available on Alibaba.com, the team shared its expertise in trading with global Buyers by leveraging e-commerce, and over 25 eager SMEs attended the event to learn more about E-Commerce
OBJECTIVE OF THE SEMINAR:
Growing Power of E-Commerce for B2B industry
Showcasing the Advantage India on Alibaba.com
Introduction of Alibaba.com subscriptions and its benefits
Introduction & benefits of Alibaba.com subscription -
The paid Membership of Alibaba.com world-wide known as "Global Gold Supplier Membership" is aimed at helping the SMEs across the globe to get enquiries from the overseas Buyers. The paid Membership of Alibaba.com has host of useful features that has helped millions of SMEs across the globe to generate business enquiries thereby helping the SMEs to take their business to GLOBAL Market.
Features & Benefits of Verified Membership :

Alibaba.com now has launched a new membership called "Verified Membership". With this membership, now Suppliers from India and some regions of US can get a Trust-Seal for business verification and it also gives higher ranking for your product listings on Alibaba.com

Please note that Verified Membership on Alibaba.com, is open to:

A registered Member on Alibaba.com (FREE Membership)
For the time being, the service is FREE for India & some other more countries

To know more about Verified Membership / To register as Verified Member on Alibaba.com, please feel free to contact Chetan Pandya on +91-22-66955216 / e-mail @ cpandya@alibaba-inc.com
*Please note that the verified Membership is subjected to the fulfilment of terms and conditions of Alibaba.com by the applicant
Gallery