Advantage India on Alibaba.com
8th Dec 2012 | Mumbai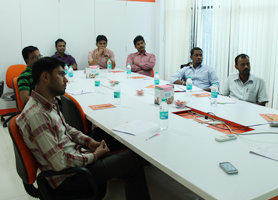 Seminar Overview
Extending its focus in the Western Region of India, Alibaba.com, the world's leading e-commerce company, had organised an event in Mumbai on 8th Dec-2012 at their Head Office located at Dadar, Mumbai.
The objective of the event was to educate Indian SMEs about capitalising on export opportunities and highlighting the Advantage India factor on Alibaba.com.
Keeping in mind, the growing trend of ever increasing usage of E-Commerce by the Indian SMEs, the topic for the seminar was "Advantage India on Alibaba.com"
OBJECTIVE OF THE SEMINAR:
Growing "Power of E-Commerce" for SMEs
Educating the SMEs about the Buyer Behaviour on Alibaba.com
Sharing Tips with the SMEs on "How to attract Buyers" on B2B platforms like Alibaba.com
Introduction & benefits of Alibaba.com subscription -
Gold Supplier is a paid membership for suppliers on Alibaba.com who have a serious interest in doing business with Buyers worldwide.
Features & Benefits of Verified Membership :

Alibaba.com now has launched a new membership called "Verified Membership". With this membership, now Suppliers from India and some regions of US can get a Trust-Seal for business verification and it also gives higher ranking for your product listings on Alibaba.com

Please note that Verified Membership on Alibaba.com, is open to:

A registered Member on Alibaba.com (FREE Membership)
For the time being, the service is FREE for India & some other more countries

To know more about Verified Membership / To register as Verified Member on Alibaba.com, please feel free to contact Chetan Pandya on +91-22-66955216 / e-mail @ cpandya@alibaba-inc.com
*Please note that the verified Membership is subjected to the fulfilment of terms and conditions of Alibaba.com by the applicant
Summary of Alibaba.com Presentation
Understanding the Power of E-Commerce
Understanding Buyer Behavior
Tips on "How to attract quality leads" for your product postings on Alibaba.com
Opportunity for India on Alibaba.com
Gallery